WHAT CAN YOU DO TO HELP KEEP THE ANTELOPE VALLEY FREE OF ILLEGAL DUMPING? YOU CAN GET INVOLVED BY VOLUNTEERING FOR CLEANUPS, TALKING/WRITING TO COUNTY OFFICIALS, AND REACHING OUT AND EDUCATING OTHERS ON THE COSTS OF THE PROBLEM.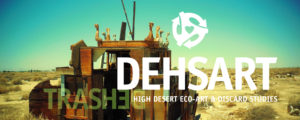 SHARE YOUR PHOTOS OF ILLEGAL DUMPING DISCOVERIES WITH #DEHSART ON FACEBOOK. JOIN THE CONVERSATION.
ILLEGAL DUMPING:
Is a crime
Is a community eyesore
Decreases neighborhood property values
Costs taxpayers millions of dollars in clean-up costs
Negatively impacts plants and wildlife
Poses safety hazards to people, especially children
Provides a breeding ground for disease carrying rodents, insects and other vermin
Disrupts natural land and water processes and ruins wildlife habitat
Pollutes surface and ground water
In general, lowers the quality of life for L.A. County's residents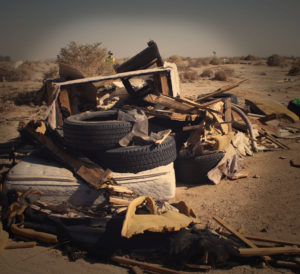 If you see illegal dumping, report it by calling 1-888-8-DUMPING or visit stopillegaldumping.com. Write down license plates, vehicle color and model, and any other identifying information. You may also fill out a Confidential Online Reporting Form. In addition to reporting, remember to:
Reconsider waste as a resource. Is it possible to reuse, recycle or re-purpose the item/s?
Dispose of your own waste properly, responsibly, and spread the word to friends and neighbors that illegal dumping is a crime
Do not transport unsecured debris in the back of a vehicle, and always use a tarp or other cover
Support cleanup of vacant lots and other sites commonly used for illegal dumping
Take your used motor oil and other household hazardous waste (HHW) and electronic waste (E-waste) to proper collection facilities. Visit the HHW/E-waste website for a list of free locations and collection events.
Support recycling programs in your community. Visit the Residential Recycling and Business Recycling websites for more info.
Bulky items, such as furniture, large appliances, etc., can be collected by your waste hauler, if you make arrangements, right from your curb, often for little or no costs. If you can't donate useful items, make sure you dispose of them properly.
Tires illegally dumped are a significant problem in the Antelope Valley. They can catch fire and are a haven for mosquitos. Please recycle your waste tires! Find out how on the Waste Tire Recycling website.
Free solid waste disposal services are available through the Lancaster Landfill, (PDF, 31KB) Waste Plan Conformance Agreement.
Utilize illegal dumping prevention programs, (PDF, 26KB).
The Antelope Valley Illegal Dumping Task Force meets to discuss and coordinate illegal dumping prevention programs in the Antelope Valley. The meetings occur at:
Fire Station No. 129, Training Center
42110 6th Street West
Lancaster, CA 93534
Meetings are free, informative, and open to the public.