IF YOU WITNESS ILLEGAL DUMPING, REPORT IT IMMEDIATELY BY CALLING THE LOS ANGELES COUNTY SHERIFF'S DEPARTMENT AT (661) 267-4300. ILLEGAL DUMPING LOCATIONS CAN BE REPORTED BY CALLING (888)8DUMPING OR VISITING WWW.CLEANLA.COM.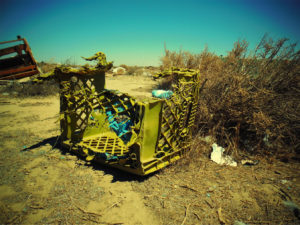 Illegal dumping incidents can also be reported through The Works iPhone application. This app offers a one-stop solution for County residents to report and track incidents of alleged illegal dumping and property violations. The free application can be downloaded at http://dpw.lacounty.gov/theWorks/
The City of Palmdale has a free smart phone app for iPhone and Droid which enables residents to receive alerts of recycling days and services.Download My Waste for iPhone.  Download My Waste for Droid.
Office of Supervisor
Kathryn Barger
http://lacounty.info/
(661) 726-3600
County of Los Angeles
www.CleanLA.com
(888) CLEAN LA
City of Lancaster
www.cityoflancasterca.org
(661) 723-6040
City of Palmdale
www.cityofpalmdale.org
(661) 267-5300
Waste Management, Inc.
www.KeepingAVclean.com
(661) 947-7197
Lancaster Landfill & Recycling Center
(661) 726-3468
Antelope Valley Recycling & Disposal Facility(Palmdale)
(661) 223-3427
---
The Antelope Valley Illegal Dumping Task Force was formed pursuant to the Board of Supervisors' instruction of April 9, 1996. The Task Force meets to discuss and coordinate illegal dumping prevention programs in the Antelope Valley. The meetings occur at:
Fire Station No. 129, Training Center 42110 6th Street West Lancaster, CA 93534
RESOURCES FOR ARTISTS:
CALrecycle
The Center for Sustainable Practice in the Arts
Green Museum: Toolbox of Working Methods
Green Public Art